2019 A New Year – A Stronger Focus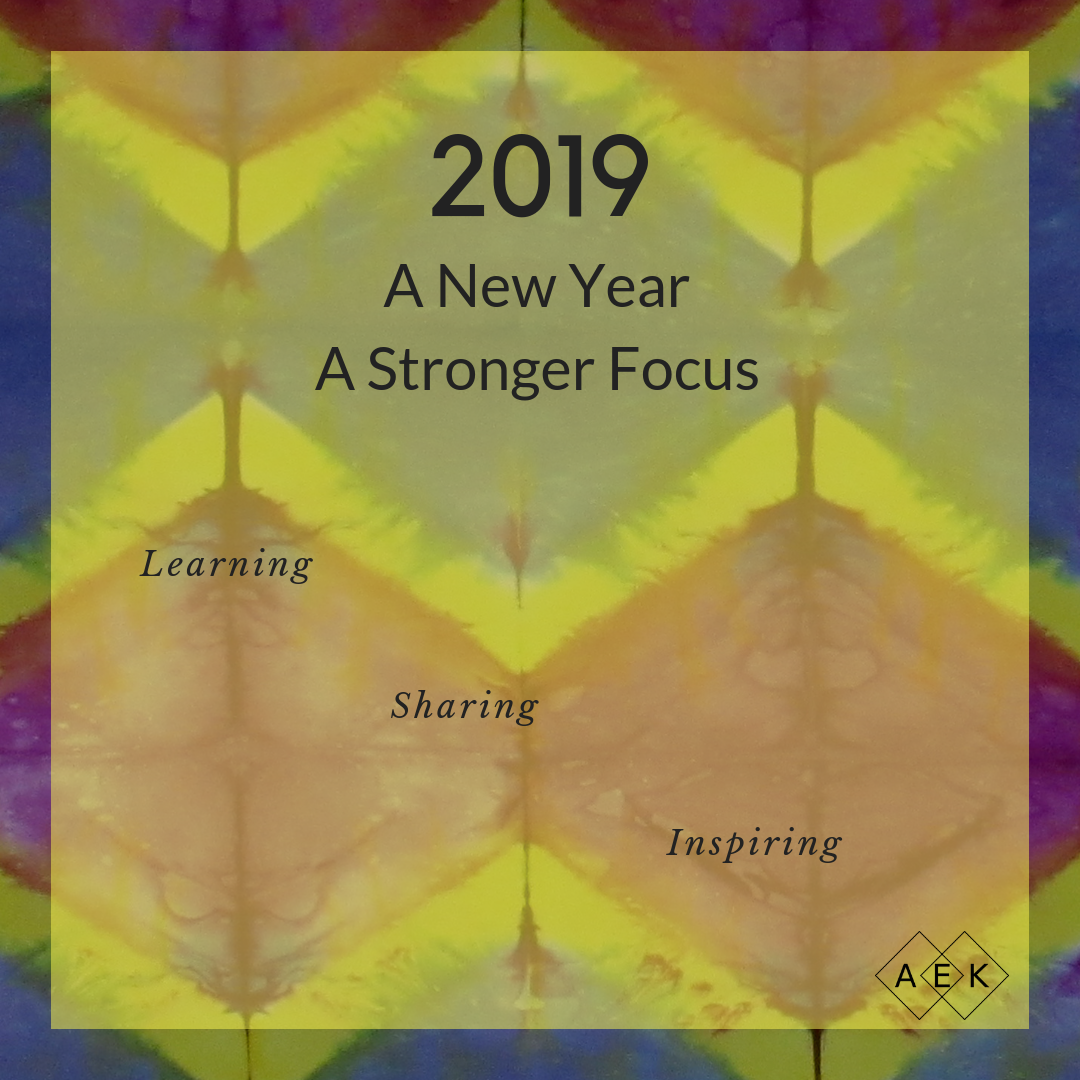 It is already 7 days into the new year! Where did the time go already! We were away for Christmas and didn't get home until early New Years day so it feels like I got a late start to 2019. Many things I do the last week of the year didn't get done until the first week of the new year.
But that time away actually because being our of my normal environment helped me to see things in a different context. There wasn't the normal visual and mental noise going on. It helped give me some clarity about what I want to focus on for 2019. You know, I call myself an artist and sometimes I feel a bit like a fraud. The main reason is why I make art. I don't make art because I have this burning desire to do so. All my work stems from my desire to learn and to share what I learn with others.
Learning
Learning is what drives me. If I couldn't learn anymore, I'd just as well die. When I want to learn something, there is no stopping me.
In Las Vegas I learned machine knitting. In South Carolina I've learned some computer coding on my first compute, the Commodore Vic 20. In Arizona it was tole painting and smocking. The smocking I taught myself. In Little I got into weaving and took a complete upholstery training class. While living in Italy I learned pattern making and during our last tour in Turkey I tutored with a Turkish tailor, learning all sorts of new things. After retiring I went back to school to learn more pattern making and got back into machine knitting.
After moving back to Florida, I switched gears a bit and in 2000 I learned how to make slipcover When I discovered the Tampa Bay Surface Design Guild in 2008 it opened up a whole new world of surface design. I've learned screen printing, dyeing, rusting, marbling, discharge, indigo and eco-print just to name a few.
Sharing
Sharing my knowledge with others is also super important. Knowledge in a vacuum is useless in my opinion. I've been told that I am a very good teacher, and I do agree with that. I work very hard at it.
In Italy I taught sewing classes and in Seattle Taught several years at a national machine conference.
After taking a slipcover class in 2000 I continued to teaching myself, improving my skill to the point where in 2004 taught for the first time at the annual slipcover conference. I taught each year until the last conference in 2013. Since joining the surface design guild I've learned and taught many surface design techniques to guild members and other groups in my area.
Inspiring
Since starting on this textile art journey, so many people have inspired me. Jan Navalas, Linda Dawson and Jane Dunnewold to name a few. And the many members of the Tampa Bay Surface Design Guild. Now it is time for me to pay it forward. Not exactly sure how, but I know it will come to me.
Being True To Thy Self
I guess this should have not come as a surprise since I've learned something new and taught others everywhere I lived. To say that I love learning and teaching would be an understatement. And to give myself credit, I am very good at both of these things. It is in my DNA, so why fight it. To do so would be swimming upstream, and I don't swim. To paraphrase the Iseley Brothers It's My Thing.