Reduce, Reuse, and Recycle
One of the things about my art practice that has bothered me is the amount of resources I use when screen printing, dyeing and printing my fabric. So I am constantly looking for ways to reduce, reuse and recycle and reduce the environmental impact of my art studio.  One of the biggest resources I seem to use is water. You would think that living in a state surrounded by water on three sides that it would be plentiful and cheap. Not! We can have years or severe drought and water is expensive in my city.
So over the years I've found ways to reduce, reuse and recycle not just water but other materials I use in making my art so that I can reduce my environmental impact of my art practice.
Here are just a few ways I am doing that.

Reduce
Water
Rinsing my dyed fabrics can use a lot of water. The first rinse is done with ice cold water followed by a very hot water rinse. Subsequent rinses are with lukewarm water. I used to freeze multiple ice cube and use them to get the water cold. But every time I rinsed another fabric I needed more ice cubes. Buying ice didn't make sense, so that was not an option. Now I take and recycle plastic water bottles, fill them with water and freeze them.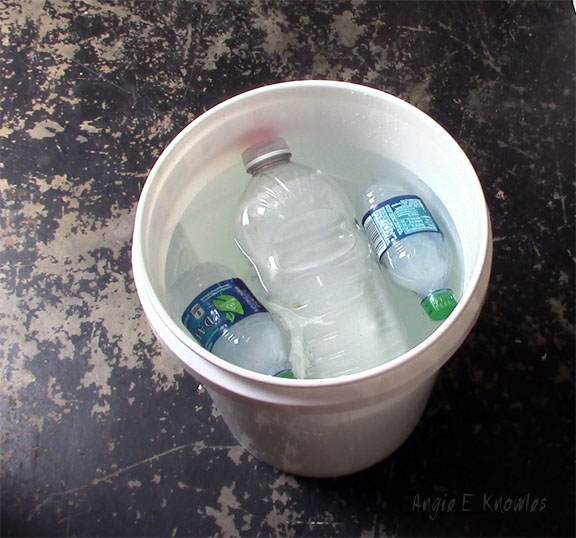 By doing this I have perpetual ice cubes as I can use the ice bottles and refreeze them, saving water in the process.
Another way I save water is reusing the rinse water. After about the 3rd or 4th rinse the water is almost clear of dye and I use the water on my non-edible plants. Such a great way to reuse!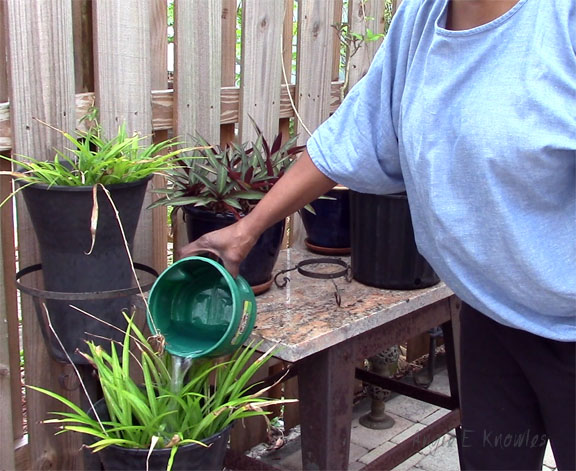 Paper and Plastic
I also have reduced my consumption of one use paper and plastic products.  Instead of using paper towels for clean up I now use inexpensive cloth washcloths and flour sack towels.  I have a laundry basket full of these so that I can wait until I have a washer load before washing them, saving water again.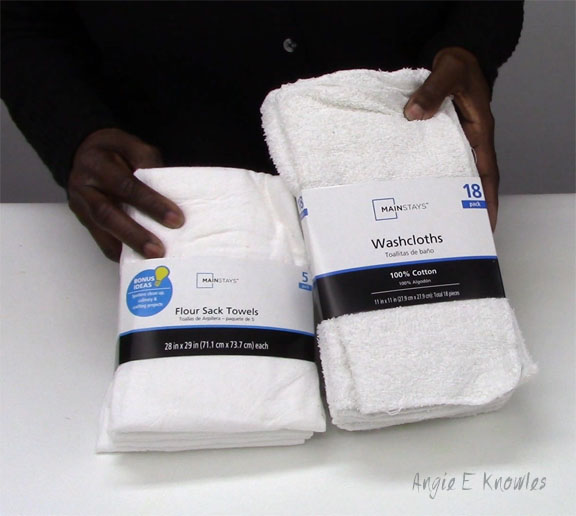 Reuse
Plastic Containers
When I dye my fabrics I sometimes use food storage bags. Instead of throwing them out after dyeing, I will rinse them and reuse them. Not only does this help my pocketbook it helps the environment. Even if the bags gets a hole, I will patch the hole with Gorilla tape and keep using it.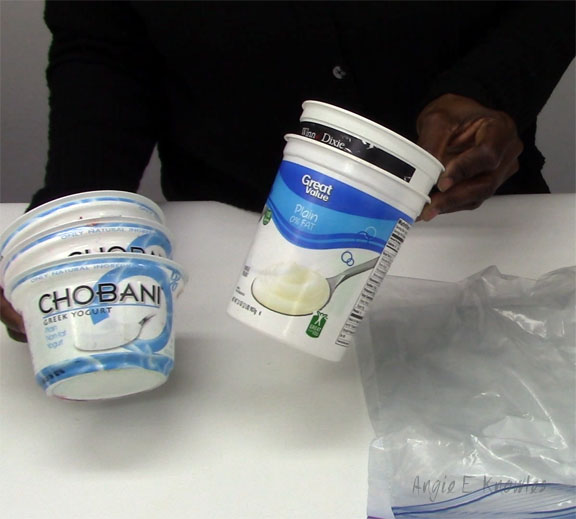 I also take food storage bags I've used in the kitchen, rinse them out and then use them in the studio. I am not comfortable using them again for food, but feel quite comfortable using them for dyeing fabric.
Another thing I like to reuse in the studio is plastic food containers, especially peanut butter jars. My hubby eats lots of peanut butter so I just makes sense to find a way to use these items instead of throwing them away. They are great for mixing paint, and other liquid. Plus they can be cleaned out and used over and over again.

Recycle
When I look around my everyday life I see so many items that I can recycle and use in my art. I will discuss two of those items here.
Packaging materials
Almost every order I receive comes with some time of packaging materials. Some plastic, but lately is has been paper. Even putting these items in the recycle bin didn't seem right to me. So I found a way to use them in my art.
I now use these paper packaging in my rust collage art. These papers rust beautiful, as does a lot of other papers. The textures and colors created are unpredictable and very unique.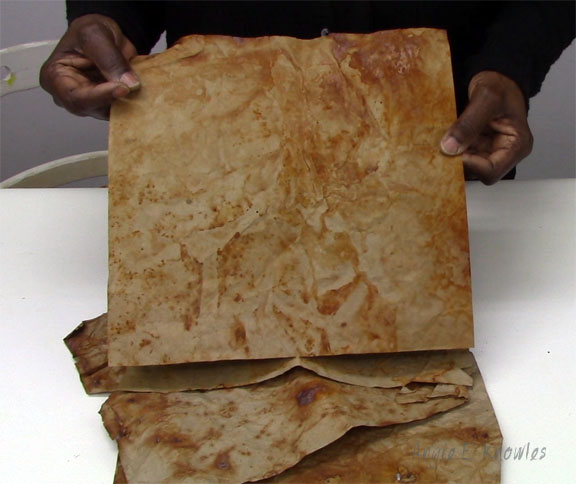 Coffee filters
My husband and I drink lots and lots of coffee. And we don't use the single serve coffee makers but still use a basic drip coffee maker and paper filters. After throwing the filters away for a while it dawned on me that I could also use them in my rust collage art.
So I just rinse them out and let them dry. Easy and I get the bonus of wonderful art.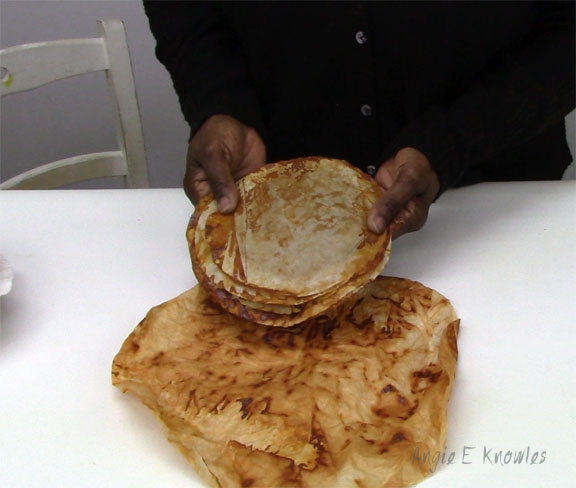 Stretched Canvas Art
One last way I try to implement environmental practices in my studio is by using recycled stretched canvas art.  I purchase these at thrift stores, usually paying $1-2 each.  I remove the canvas and stretch my art on the frame.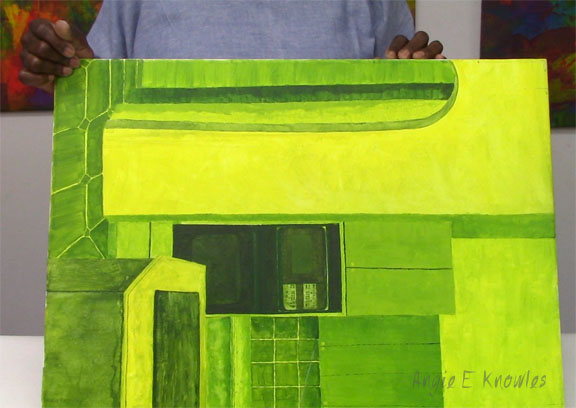 This is a great way to get nice sturdy frames for a fraction of the cost.  Plus the canvas I remove can be recycled into other art pieces.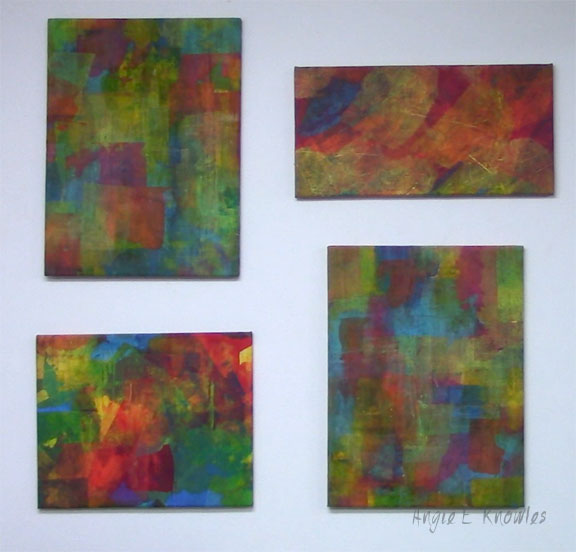 How to you Reduce, Reuse and Recycle
These are just a few ways that I've found to reduce, reuse and recycle in the studio.  Are there things that you practice to reduce, reuse and recycle and reduce the environmental impact in the art studio?  Please comment and share with us.
And check out my YouTube channel for a short video on this topic.